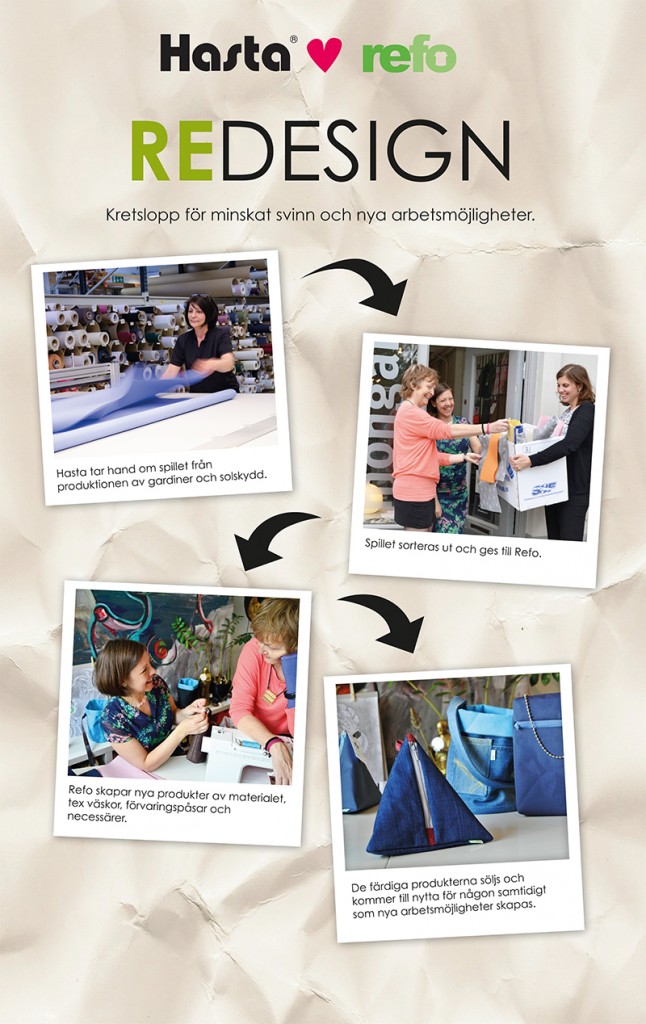 Soon it's time for Formex and we'll have late nights to catch up with the final preparations. Among other things, we have worked to prepare the presentation of our cooperation with Refo.
Redesign – Hasta and Refo combine entrepreneurship with sustainability
Together with the Refo organization we have built a cycle where waste from curtain production is reused in new design products. The concept is called Redesign and aims to combine design and enterprise with sustainability and reuse.
Sustainability and environmental work have traditionally been separate from business creativity and seen as a cost to businesses. Hasta and Refo think it's a misguided sight. "We believe in building on the similarities instead of focusing on the differences. In order to really influence, we need to reconcile sustainability with entrepreneurship and profitability. "By combining creativity with business sense, we have been able to reduce the gap together and create new job opportunities.
The circuit begins with Hasta collecting, sorting and saving waste from its production of curtains, sun protection and curtain accessories. The material is then given to Refo who designs and manufactures new products. Thanks to the continuous flow of materials, Refo has opportunities for more large-scale production and more profitable operations.
The project is in its infancy, but Refo and Hasta have more ideas for cooperation in the future. "There are many who talk about working together on sustainability. We are doers who want to influence really by starting to co-produce. "Says Liselotte at Refo. "We will find ways to adapt our sustainability efforts to globalization and the world's rapid development"